You must be aware of Microsoft Outlook, an integral part of Microsoft Office, which is used as an email manager.  You can not only send emails, but you can even integrate it with several third-party online apps for providing email functionality. You can integrate it with QuickBooks Desktop so that you can send emails from your Desktop app using MS Outlook as the primary email client. You can face the issue when there is a misconfiguration in the Windows settings or when your Outlook freezes while sending emails.
This blog will help you when you face the error of "QuickBooks Outlook is not responding" while sending emails from your QuickBooks Desktop app. You need to follow this blog to know the causes and solution of this error.

Why QuickBooks Outlook is not responding Error Occurs?
Some of the most common reasons why Outlook freezes while sending emails using QuickBooks are:
When you are not running QuickBooks as an administrator on your Windows OS
The email settings in Internet Explorer are faulty.
Incorrect email settings in your QuickBooks.
The installation of QuickBooks Desktop is inappropriate, damaged, or incomplete
The Microsoft Outlook is already running in the background of your system computer while you are sending email from QuickBooks
When the MAPI32.dll file is damaged.
Steps to Fix QuickBooks Outlook is not responding Error
Follow these given steps to fix the error outlook not responding in QuickBooks application.
Ensure to Run QuickBooks with Admin Rights
Right-click on the icon of QuickBooks Desktop and select Properties >Compatibility tab.
Here tick mark on the checkbox that reads Run this Program as Administrator present under Privilege Level section.
If the checkbox is already checked, then you have to click Apply and then OK.
At last, restart your computer and see if the problem is resolved or not.
Verify Email Preferences for QuickBooks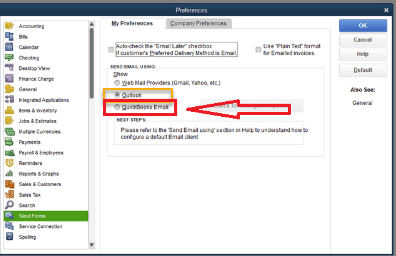 Open QuickBooks software and go to Edit tab > Preferences > Send Forms.
Then go to the My Preferences tab and choose the option of Send email using and then click OK.
Now click the Edit tab > Preferences > Send Forms > My Preferences tab > QuickBooks Email and hit OK.
Then  you have to select Edit > Preferences and then choose Outlook option and hit the OK button
Exit the QuickBooks and Outlook and then restart your Windows and try to send email using QuickBooks.
Repair QuickBooks Desktop and Outlook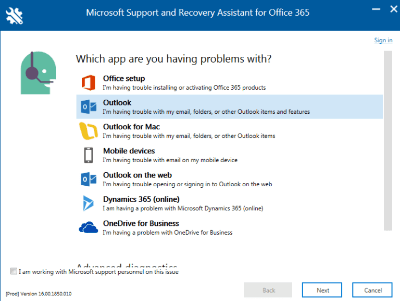 You have to repair your QuickBooks Desktop software
If by repairing QuickBooks Desktop software, there is no luck in fixing "QuickBooks Outlook is not responding" error. Then, you have to download Microsoft Support and Recovery Assistant tool to repair Microsoft Outlook installation.
Verify the Email Preferences of Internet Explorer
You need to exit from the QuickBooks and close any company file if it's open.
Then you have to run Internet Explorer on your Windows.
You need to click on the Gear icon > Internet Options >Programs > Set Default.
Now you have to click on the Set your Default Program link.
Then you need to select the Outlook option and click on the option of Set this Program as Default and then hit on OK button
You then need to close the Internet Explorer and try sending an email using QuickBooks again.
If you're QuickBooks Outlook Freezes while sending the email, you have to follow the next troubleshooting step.
Repair Damaged MAPI32.dll File
You need to close any running application of your Windows.
Then open Windows File Manager and go to C:\ Windows\ System32 folder.
You have to locate and double-click on the Fixmapi.exe file.
If you cannot locate the file in the Windows Explorer, you have to search it manually.
Once the tool has repaired MAPI32.dll file, you can easily open QuickBooks software and can try to send an email
There are still chances that your MS Outlook may not respond in your QuickBooks accounting software while sending the emails even after executing the solutions that are listed above. If you are also struggling with the "QuickBooks Outlook not responding" error, give a call to QuickBooks expert for immediate troubleshooting guidance.