If you are a regular QuickBooks user, you might have experienced different types of errors while running the program. Well! The QuickBooks error 1904 that we are going to discuss in this post is an install error that can take place all of a sudden while installing the QuickBooks application. You may also experience this error when upgrading QuickBooks to a more advanced version.
There are numerous possible reasons that can result in this error, such as damaged Microsoft components. For a detailed discussion and troubleshooting of error 1904 in QuickBooks, follow this post until the end.
What Does QuickBooks Error Message 1904 Trying To Convey?
While installing the QuickBooks application on my system, I received QuickBooks error 1904. This error code was mentioned in an error message with the text –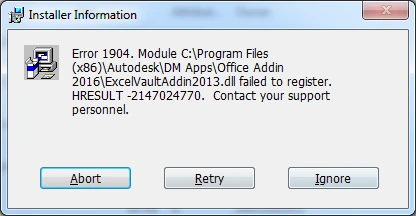 "We're sorry! Something went wrong with your installation. Error 1904. Module C:\Program Files (X86)\QuickBooks 2018\ICWrapper.dll" failed to register."
This is a commonly reported issue from a QuickBooks user; however, there are many users who encounter this error message when installing the QuickBooks software. This error message indicates that the program installation gets interrupted due to damaged Microsoft Visual C++ files. Some other elements can also result in this problem that needs to be resolved properly to eliminate the QuickBooks error code 1904.
What Possible Reasons Can Give Rise To QuickBooks Error 1904?
Some of the most common reasons for the error 1904 in QuickBooks are mentioned in the following list:
The first and foremost reason behind this error is a damaged Microsoft component, such as C++, MSXML, and/or .NET Framework.
Sometimes, a damaged QuickBooks installer file also generates the error code 1904.
It can be your Windows security application, preventing the installation process from being accomplished.
Upgrading QuickBooks Pro to the Premier version is also one of the possible reasons that can cause the error.
Insufficient permissions to install QuickBooks application on Windows.
A new Windows operating system installed on the device.
When you don't restart your PC after upgrading your operating system.
Symptoms That Can Be Experienced When QuickBooks Desktop Error 1904 Occurs
When QuickBooks Desktop error 1904 occurs, users notice some common signs, which are:
You won't be able to locate some important files in QuickBooks.
Automatic updates can't be accessed on the QuickBooks application.
An error message appears with a warning – icwrapper dll failed to register QuickBooks.
You won't be able to upgrade QuickBooks Pro to the Premier version.
The installation process of the QuickBooks application is hindered by the error code 1904.
The system becomes slow, and all the operations take more time than usual.
Some Common Practices To Follow Before You Start The Error Fixation
Sometimes, the current settings of your Windows operating system or QuickBooks application can interfere with the resolution of QuickBooks error 1904. Therefore, you need to look into these factors before implementing the procedures.
Windows must be updated on all computers when working in a multi-user environment. It ensures that all the systems are compatible and are running in their optimal shape.
You should keep your LAN and Internet connectivity strong, and before installing the QuickBooks application, refresh them once to check their status.
When in multi-user mode, the QuickBooks should be updated to the latest maintenance release, both on the server computer and workstations.
Open QuickBooks as an admin user to make sure that the required process is granted for the smooth installation of the program.
How Should I Deal With QuickBooks Installation Error 1904?
After discussing all the crucial aspects of the error code 1904 in QuickBooks, let's proceed further to the most important section of this post, which is troubleshooting. Hereafter, you will find some easy and efficient ways to resolve the persisting problem:
First Procedure: Install and Utilize QuickBooks Tool Hub To Fix QuickBooks Installation Error
QuickBooks Tool Hub is home to some powerful tools that can resolve the common issues in the program. For instance, the installation issue in the program can be resolved by running the QuickBooks Install Diagnostic Tool, which can be accessed from within the tool hub. Therefore, you need to download and install it on your system so that you can put it to use.
Open QuickBooks Tool Hub after agreeing to its terms and conditions.
Now, take a look at the screen that shows a list of the QuickBooks issues.
Locate QuickBooks Installation Issues and click on it.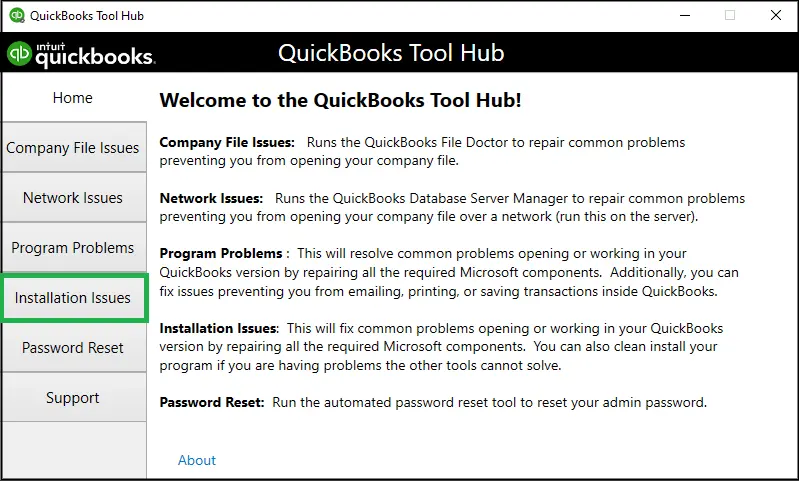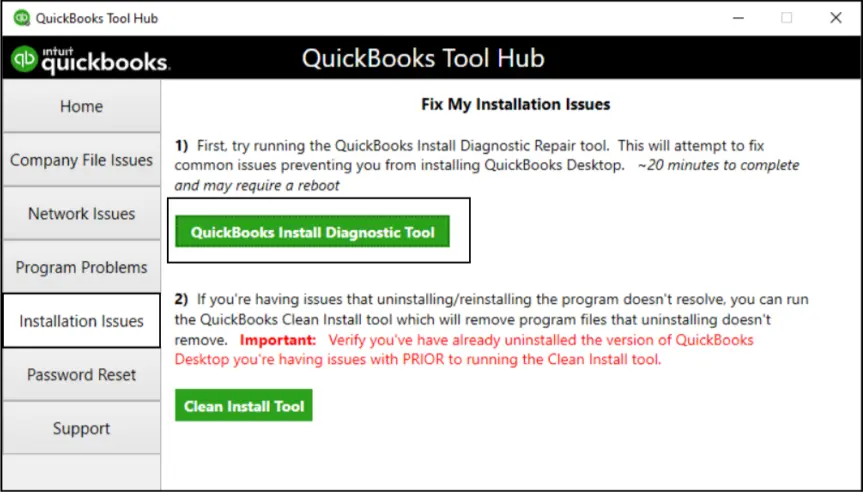 Wait for the process to run and detect the common installation issues.
Once the issues are detected, the tool will resolve them automatically.
Now, try to perform the procedure that was giving the error. If QuickBooks error 1904 appears again, move to the next solution.
Second Procedure: Enable The Hidden Windows Admin Account To Grant The Installation Process With Full Permission
A hidden Windows admin account enables the User Account Control, thereby imposing certain restrictions on your system. It can also result in QuickBooks error 1904; therefore, you need to unhide the Windows admin account if it is hidden.
Click on the Windows Start menu, and when the search box appears, type CMD in it.
Next, right-click on CMD when it shows up and choose the Run as Administrator option.
Thereafter, you need to add the command – "net user administrator /active: yes" to the Command Prompt.
Now, hit Enter and advance to the next step.
When the error message appears, you need to enter the command "net user administrator /active" and click Enter to enable the hidden admin account.
This command will let you enable the Windows administrator account so that you can install the QuickBooks application smoothly without getting an error.
Third Procedure: Manually Repair Damaged Windows Components
Damaged Windows Components are one of the possible reasons responsible for the taking place of QuickBooks error 1904. In such a case, you need to repair the Windows components manually. These components are essential for installing or updating an application on Windows OS. Therefore, you need to repair these components to avoid any errors. These components are Microsoft .NET Framework and Microsoft MSXML.
First of all, you need to re-install the .NET Framework.
Once done, repair the MSXML component.
After repairing these components, you can try installing the QuickBooks application again. If this doesn't resolve the QuickBooks installation error 1904, move to the next troubleshooting solution.
Fourth Procedure: Repair An Existing QuickBooks Installation If Damaged
If you are experiencing the QuickBooks error 1904 when installing the application, you need to repair the current QuickBooks installation by implementing these steps:
Initially, close the QuickBooks application to initiate the process.
Next, go to the Control Panel and hit Programs >> Programs and Features.
Now, right-click on QuickBooks software and click the Uninstall option.
Click the Next button, and it will help you advance in the process.
Here comes the step wherein you can repair the data by clicking the radio button on your screen.
Click the Next button again and select the Repair option.
Now that the repair process is completed click the Finish button.
On A Final Note!
A cautious implementation of the solutions discussed in this post can help users eliminate the QuickBooks error 1904. If something is not clear to you and you need to speak to an expert, the QuickBooks helpline number can help you connect. Here, you can get your doubts resolved by experts and install QuickBooks software on your PC correctly.
Frequently Asked Questions:-
1: What are some special cases when QuickBooks error 1904 can take place?
There are some special cases wherein QuickBooks installation errors can come into existence. These cases are:
If you are using Bitdefender for security purposes, then you need to add QuickBooks to its exception list. 
Adobe Flash is recently installed on your system.
QbversionTool.dll is mentioned in the error message 1904.
2: What are some preventing steps to follow for error 1904 in QuickBooks?
When experiencing this error, you need to create a backup of your data file to safeguard your data from loss or damage. Also, don't make any interruptions when QuickBooks software is being installed.
3: How can I deal with the error 1904 when it takes place while upgrading the program?
If you are getting error 1904 in QuickBooks when upgrading the program, stop the process if it is faulty. Also, make sure that you are upgrading the software from a legitimate source. If not, you need to go to Intuit's official website to upgrade the application.
4: Why do Microsoft components need to be repaired in QuickBooks Desktop error 1904?
Microsoft components are required while installing or updating a program on Windows OS. In such a case, you need to make sure that they are working fine. If not, repair them to eliminate the installation issues in QuickBooks.
5: What can I do if nothing resolves the QuickBooks error code 1904?
If nothing works in resolving the QuickBooks error 1904, you can simply connect with an expert for the error resolution. There are different channels you may utilize for resolving this installation error in the program.